HAND-LETTERED ENVELOPES
(hand lettering how-to-series)
IN SHARPIE'S HAND LETTERING SERIES we take an in-depth look at this surging trend that's taking social media by storm, adding new hand-lettering lessons and applications in each How-To installment.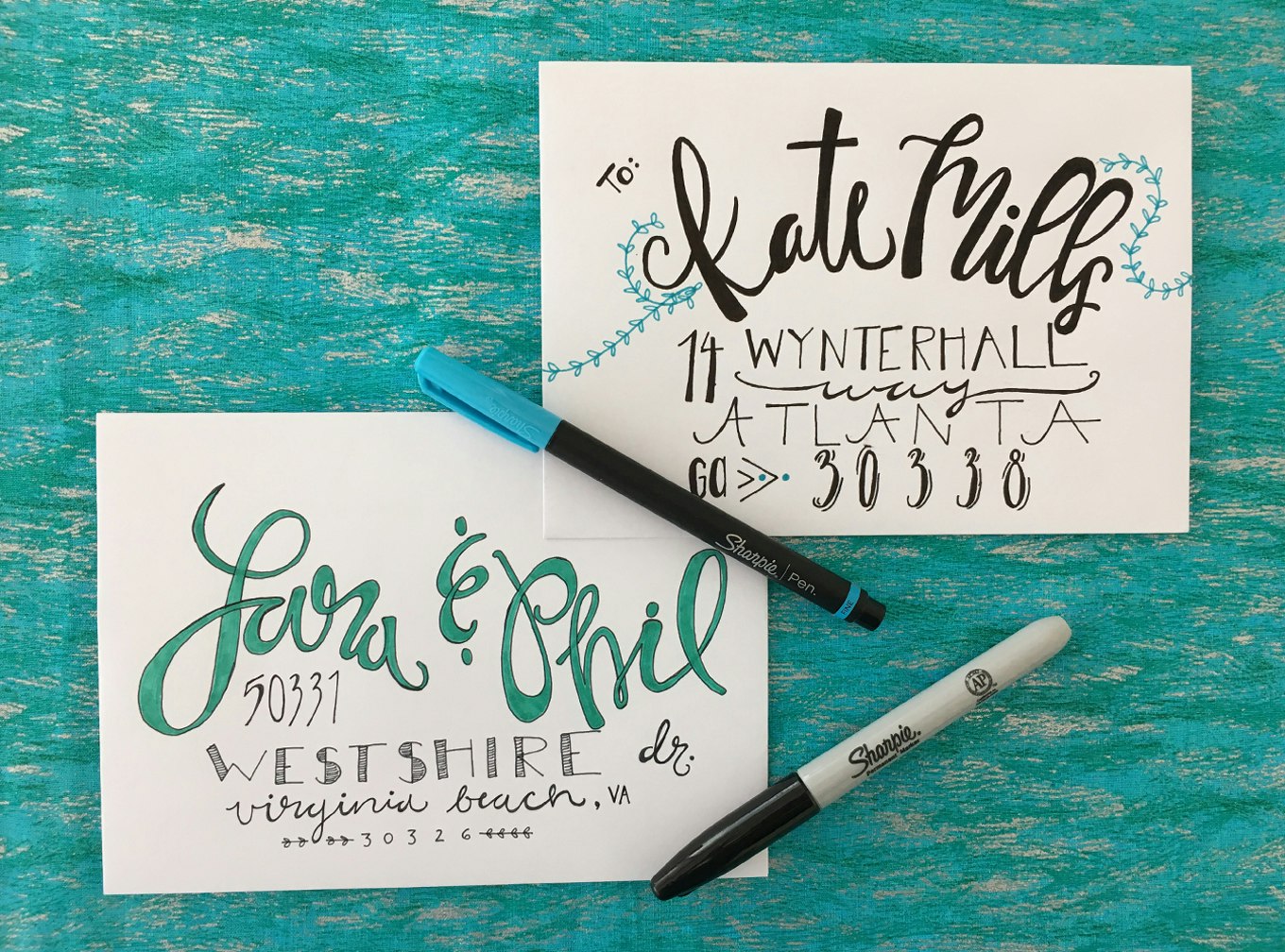 TO RECAP FOR THOSE IN THE BACK: Hand lettering is essentially a form of draftsmanship that fuses the arts of calligraphy, sketch and drawing. And once you've got the hang of BASIC LETTERING TECHNIQUES, you're ready to get in on this growing craze with awesome creations of your own.
HAND-LETTERED ENVELOPES are the perfect way to push the limits of your skills and develop your own lettering style. Plus, at the end you've got something awesome to mail cards and stuff in (which is kind of the point).

Here are a few tips to help you master the envelope art form:
GET THE FEEL OF YOUR SHARPIE: Sharpie BRUSH PENS are specially designed for hand- lettering. Practice with a set to get the feel of the barrel in your hand, and how slight changes in pressure and angle create varying line thicknesses. For darker envelopes, try using Sharpie METALLIC MARKERS for amazing ink contrast.

SPACING LETTERS evenly is key. You can use a Lettermate clear plastic guide to achieve perfectly spaced letters while you continue to fine-tune your freehand accuracy.

OUTLINE FIRST: Use a Prismacolour pencil to trace letters first, and then go back over with your Art Pen or Metallic Markers to thicken lines and add artistic flourishes.

STRAIGHT LINES: Use a second envelope as a guide to achieve straight lines and uniform spacing between rows of letters.

FLUID LINES: Use a freehand technique to achieve a more fluid lettering look.

DECORATIVE ACCENTS: Once you've put the final touches on your letters, add dots, arrows, hearts, swooping underscores, or other decorative accents for an extra punch of personality.