PERSONALIZED WRAPPING PAPER
(it's what's on the outside that counts)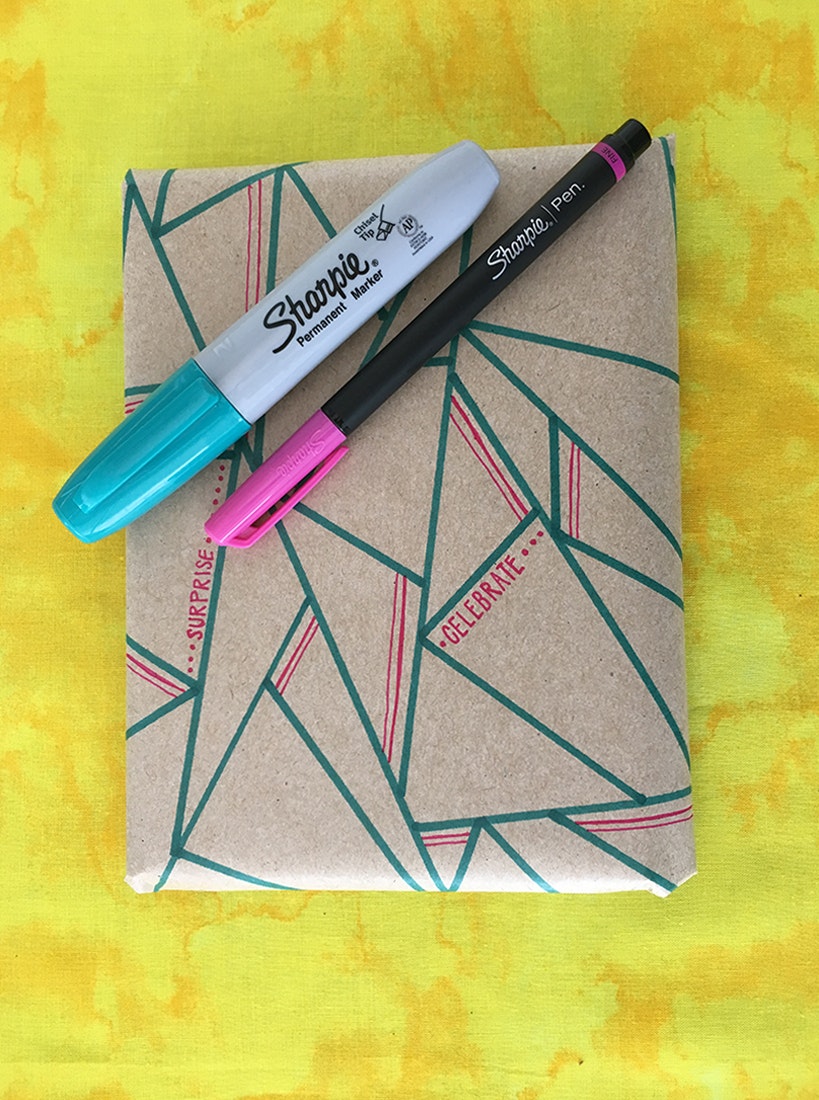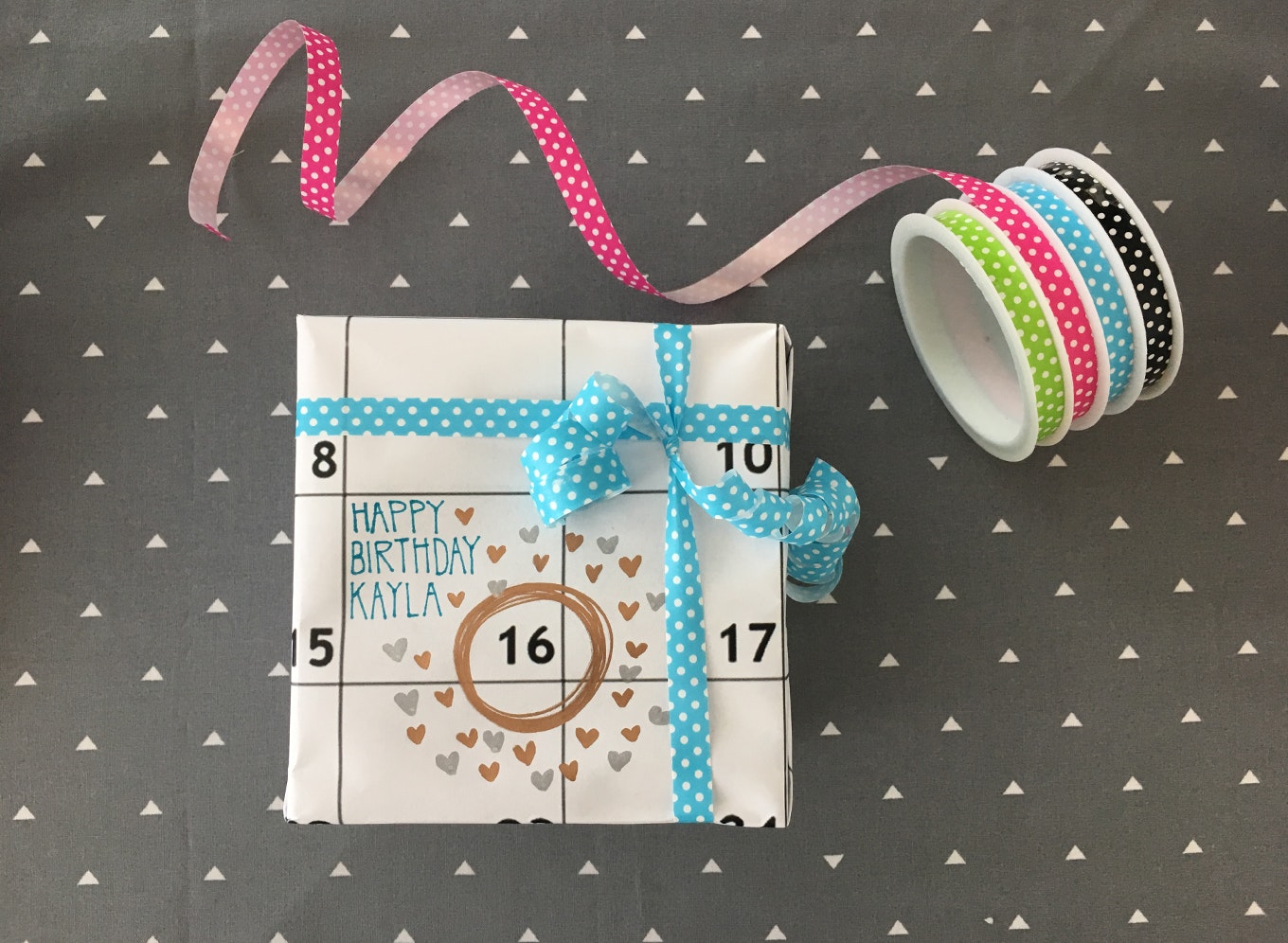 Whether someone in your family or friend circle is celebrating a birthday, tying the knot, buying a home, welcoming a baby, or graduating with honors, it's a perfect occasion to wrap their gift with a personal touch sure to win major style points.
WITH SHARPIE, SOMETHING AS BLAND AS PLAIN GIFTWRAP CAN BECOME A BRILLIANT PIECE OF ARTWORK THAT MIGHT JUST UPSTAGE THE GIFT INSIDE. (UNLESS, YOU KNOW, IT'S A DIAMOND OR SOMETHING.)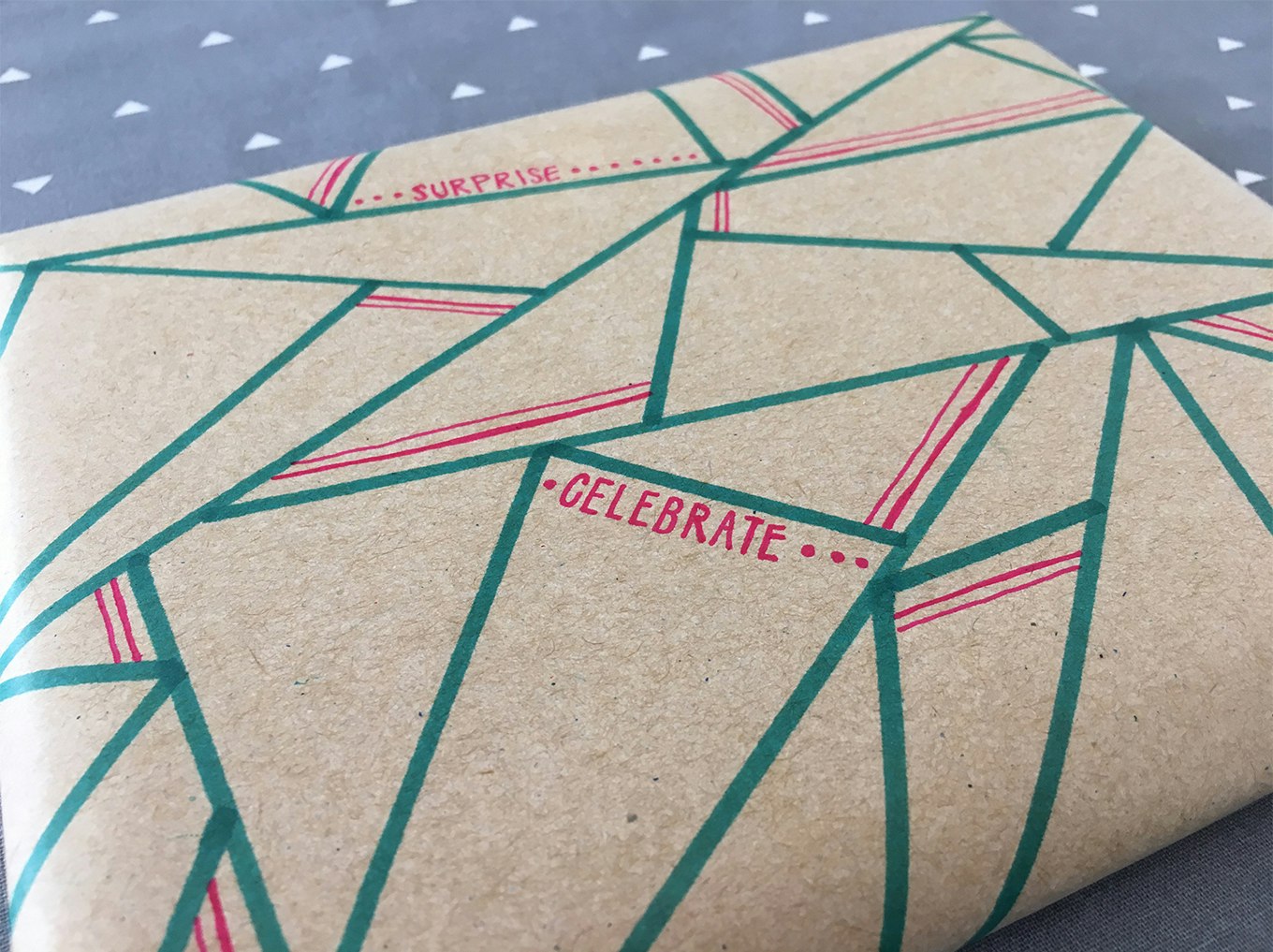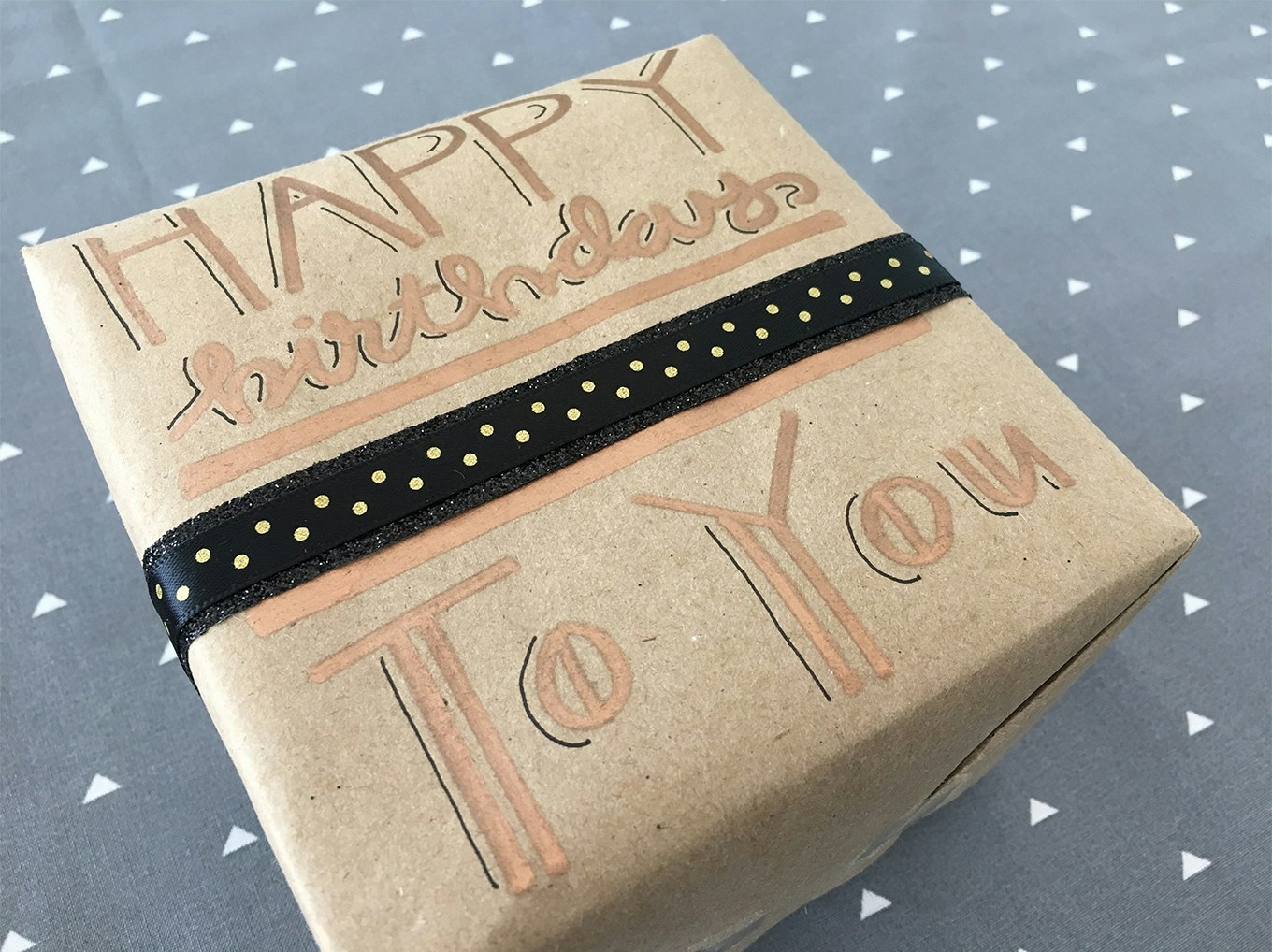 WHAT YOU'LL NEED:
Plain white or brown wrapping paper
Sharpie COLOURED or METALLIC Markers
Right-sized box for the gift (as you'll need a firm, flat surface to write on)
Scissors and tape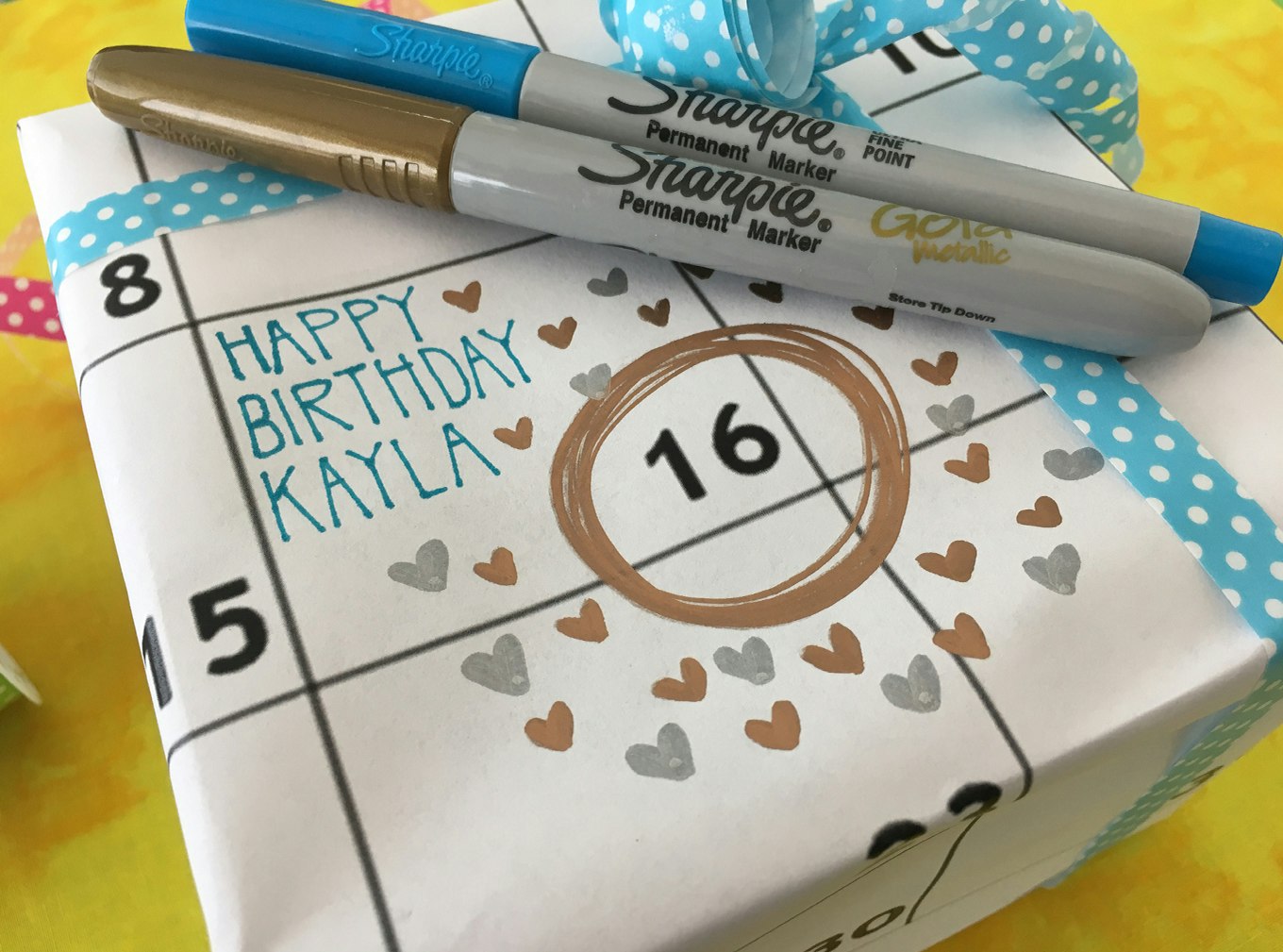 BIRTHDAY
Not only is this a quick and easy gift-wrap idea, it comes in handy for adding a personal touch to presents at the last minute (hey, we've all been there).
Tear out a sheet from a large wall or desk calendar and wrap your gift in it.
Be sure the person's birthday clearly shows on the top the present.
Use your Sharpie Metallic markers to boldly circle the date, and write a heartfelt or humorous message below it.
Use wrapping ribbon to "frame" your design so your handiwork pops off the package and won't get overlooked.
MUSIC-THEMED
For the musician or music lover in your life, this ingenious gift-wrap idea is pitch-perfect.
Wrap your gift in plain white wrapping paper.
With a ruler and black Sharpie, draw a music staff (five horizontal lines, evenly spaced) across the package.
On the staff, draw in the first six music notes of the "Happy Birthday" song in bold black Sharpie. (The precise notes and how to replicate them can be easily found online.)
Below, write the phrase "Hap-py Birth-day To You," matching up each syllable with its corresponding music note.
TIP: For an extra-personal twist, use a lyric from a contemporary song that holds special meaning for the person.
CUSTOM THEMES
Got a friend or family member who's fanatical about a sport, their pets, or a personal hobby?
Wrap your gift in plain white or brown paper.
Use your Sharpie markers to decorate wrapping with the person's favourite sport, animals, or pastimes and interests.